How I Ended Up With the World's Cheapest Mr. Gold
Best of BrickNerd – Article originally published March 17, 2021.
Happy Saint Patrick's Day to all you people out there who are Irish, or have Irish ancestors… or just feel like celebrating Saint Patrick! The closest I've personally come to celebrating Saint Patrick is visiting his namesake cathedral in Dublin because this is a holiday that isn't commonly celebrated in Norway. Oh, and many years ago I did climb Croagh Patrick, the holy mountain in Ireland where the saint is said to have fasted for forty days back in the year 441.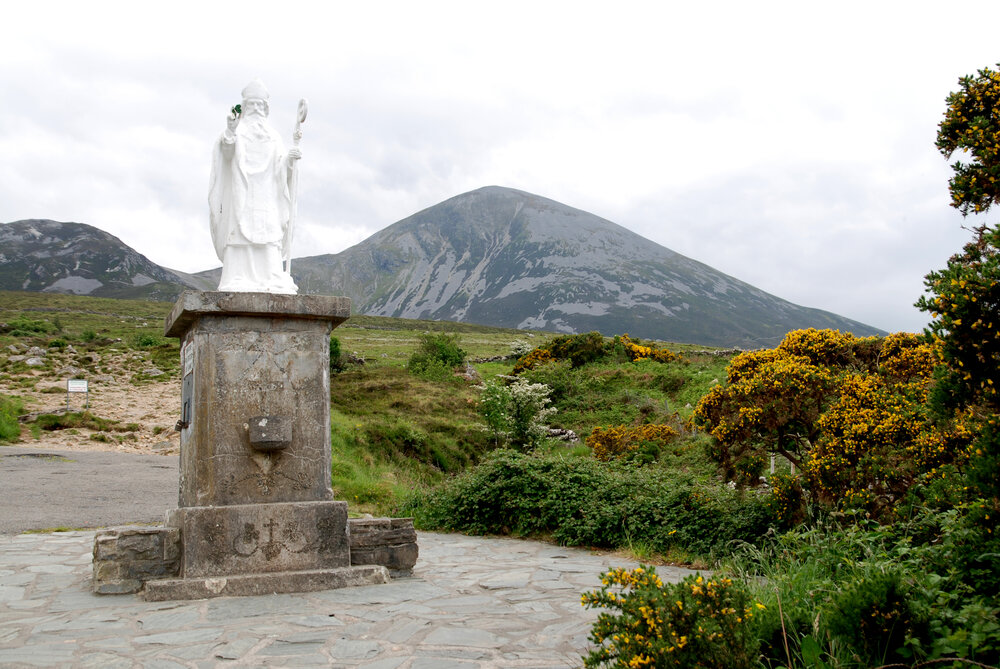 What's all this got to do with LEGO and Mr. Gold? Well, it's said that the leprechauns had gold hidden away at the end of the rainbow… and then there's the phrase "the luck of the Irish," which came about during the American gold rush when the miners who were of Irish descent were perceived as being more successful than others. This story certainly involves both something golden and a whole lot of luck!
---
Where Is Mr. Gold?
A bit of background first, even though most of you will be familiar with this. Back in 2010, LEGO introduced the Collectible Minifigures series (the 'Collectible' has since been dropped). In the first year, two series of 16 figures each came out, but the speed with which new series were released quickly picked up and by February 2013, Series 10 hit the shelves.
To mark this special occasion, LEGO created a very special minifigure, called Mr. Gold, which consisted mainly of chromed pieces. Mr. Gold was sporting a top hat and holding a scepter with a jewel attached to the end. However, LEGO randomly distributed only 5,000 of these figures packed in blind bags all over the world.
I'm a sucker for minifigures. I've loved the little guys for as long as I can remember, which might have something to do with the fact that I was born in 1977 and the oldest sets I owned (still own) were from 1978, the first year of the minifigure as we know it today. For example, I own the original version of the policeman from set 600—which was commemorated in Series 18, released to mark the 40th anniversary of the LEGO minifigure. That figure, chosen as the symbolic "first" minifigure, might just also have been my very first minifigure.
So needless to say, I was hooked from Series 1, and I managed to get hold of every collectible minifigure up until series 10. Of course, I really wanted a Mr. Gold… but so did just about everybody else, it turned out. Obviously, they were incredibly difficult to find (as intended). I went so far as to buy a whole box, but alas, no luck. And on BrickLink and eBay they cost a pretty penny for a real one, so getting one that way was also pretty much out of the question.
I should mention that I actually like rare items. It seems I'm at odds with most of the AFOL community in that I love the fact that LEGO does limited edition sets for Comic-Con and for the LEGO House, and that they sometimes release regional exclusives. Yes, I'd like to own them, but I don't have to. Instead, I really enjoy hunting for the rare things, and as a result, the ones that eventually end up in my collection feel much more special because there's almost always a story attached to how they got there. And that's certainly the case with my Mr. Gold.
---
PayPal Pen Pals
In April 2015, two years after Series 10 was released, I was browsing the Brickset database and came across that elusive golden guy again. I thought, "I wonder how much those go for these days, now that the initial literal gold rush has passed?" So I went on eBay to have a look. They were of course still crazy expensive, but I figured the chance of finding a cheaper one might be bigger at that point than before, so I put up a search and within a week, I got a hit that looked promising.
I wish I had a screenshot of the listing, but I didn't think of it then. It had a couple of dark, low-resolution pictures of what appeared to be an opened outer bag, but a still sealed inner bag with an unassembled Mr. Gold, along with the exclusive leaflet with the limited edition number on it. The photos didn't really sell the item very well, and the listing was quite poorly worded—but what really caught my attention was the "Buy It Now" price of US $100.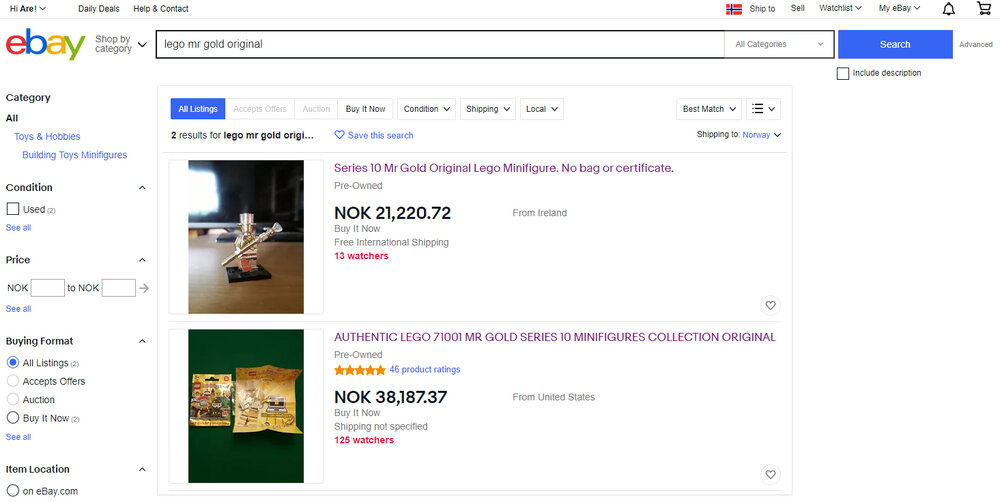 This was about a tenth of the price in the second-cheapest listing I had come across, and although it was still a lot of money for a little plastic figure, I thought I'd give it a go. After all, I'd have proper PayPal buyer protection if something turned out to be fishy, and even if I eventually would end up losing the money, it wouldn't be too disastrous. The description said the seller was located in Nebraska and said that shipping it out of the country was out of the question. I figured I could always just have it sent to an American friend of mine who I was going to meet at Brickworld Chicago a couple of months later anyway.
So I hit the "Buy it Now" button and wrote a quick note to the seller saying I was buying the figure in good faith, expecting it to be genuine, and that I wanted to have it shipped to a friend in Minnesota. The reply I got was… shall we say a bit confusing:
"THX FOR purchasing my LEGO Mr. Gold I wonder how do.I get the moneyy? I am a new seller please respond thx again. yea but could I receive the pay in a cash envelope please and thank you. and do you want my address so you can ship the money/ Because im a new seller I set my account with a non reloadable visa gift card and I will also need your friends address thank you. and it is a genuine figure I had it in the china hutch and I needed quick cash so I grabbed it and sold it to you."
I replied that no, I wasn't going to send 100 dollars in an envelope across the pond, and that the listing clearly stated that PayPal was accepted. The seller replied with "OK," gave me an email address for his/her PayPal account, and said it would be shipped the following Monday. And sure enough, on Tuesday I received a USPS tracking number.
I followed the tracking from Nebraska, and four days later my friend in Minnesota sent me an email with a couple of pictures, saying he was no expert, but…
"…it looks real based on other images and videos posted online. The back of the brochure says it's 'no. 3339/5000.' See you in Chicago (with Mr. Gold)!"
Brilliant, I thought. I just managed to get a Mr. Gold at about a tenth of the going rate! I started wrapping up the builds I was bringing to Brickworld, looking forward to visiting my first North American convention.
---
A Little Bit of Luck
Little did I know that the coveted minifigure would eventually become even cheaper, because about a week before my flight to Chicago, I got an unexpected email. PayPal informed me that nobody had claimed the money, and it had therefore been returned to my account. I checked my balance, and sure enough, the $100 was back exactly a month after my purchase.
Needless to say, I was very surprised. I wanted a cheap-ish Mr. Gold, but didn't really want it to be free—obviously, that wasn't the seller's intention either! He/she clearly stated in our communication that the reason for selling was to get quick cash. So I promptly sent an email to the seller saying that I had been notified that the money hadn't been claimed and that I wasn't comfortable with getting the minifigure for free. I asked the seller to get in touch so we could arrange for a money transfer in some form, PayPal or other.
But no response ever came. Nothing!
I eventually traveled to Chicago (or, at least, to the slightly less flashy, less skyscapery village of Schaumburg where Brickworld actually takes place), met up with my friend and received my, by now, completely free Mr. Gold. I had a great time—I exhibited my builds, went downtown and felt the wind, saw the skyscrapers and The Bean (sorry, Cloud Gate), marveled at the view from Willis Tower, bought the LEGO Architecture model of Willis Tower at Willis Tower, visited some roller coasters at Six Flags and narrowly avoided being puked on.
After a couple of lovely weeks in Illinois, I got back home to Norway and examined my acquisition. Sure enough, it was real. The outer bag had been cut open, but Mr. Gold was different from most other CMFs at the time in that the pieces of the minifigure were securely placed in a smaller, see-through, sealed plastic bag within the outer bag. There was a little tear in this inner bag, but the figure was still unassembled and all parts in place.
The leaflet that comes in all CMF bags was also different, in that one side showed all the Series 10 figures, but the other contained the limited edition number and a code that could be used to register that specific figure on the website minifigures.lego.com. That site sadly no longer works (possibly because it required Flash), but in the gallery below you can see what it looked like back in 2013 thanks to The Wayback Machine. I've also added a picture of the diploma I could have printed out if I had registered my unique code:
My beloved Mr. Gold actually stayed safely within his plastic inner bag for almost three years, until I bought a bigger apartment (hello, evergrowing LEGO collection) and got a proper "trophy cabinet" where he could shine along with my other prized possessions. Then I took a deep breath and opened the bag.
I assembled the figure and put him on the shelf, where he still proudly stands to this day. He might not be the most valuable thing in that cabinet, but that's another story! (Then again, I just went on BrickLink and eBay to see what's available today, and these things are certainly not decreasing in value!)
Obviously, eBay is overflowing with reproduction versions of Mr. Gold—either cheap ones made from counterfeit clone-brand minifigures or slightly more expensive ones made from custom chromed LEGO elements. At the time of writing, there are three for sale on eBay claiming to be the real deal, and they are priced at roughly US $2,500 (with no certificate or code and located in Ireland—what was that about "the luck of the Irish" again?), $3,000 and $4,500, respectively. (Although the seller of the middle one, located in France, is open to offers, so you could try your luck with that, especially if you're Irish!)
BrickLink has ten available, ranging from unopened to opened and spread across four continents. The cheapest one, with no code (not that it matters anyway, now that the site is offline), also is listed at US $2,500. If you have an appetite for the super exclusive, however, you should go for the one located in Victoria, Australia, which will set you back about US $6,250. I have a suspicion that the seller doesn't really want to part with it but might for the right price… and I can relate to that!
So that's the story. You might, as I do, wonder how this happened? To this day I have no idea. Was the seller in some kind of trouble, or maybe sick… or did he/she maybe even, God forbid, pass away? I don't know. I (mini)figure that since I did try to reach out to the seller, I've done what I should and could. There's also a little voice whispering in my ear that I should donate this to some kind of raffle for good karma,… but I'm not listening! Not right now, anyway. I should point out, though, that I'm obviously still willing to pay the $100 for my Mr. Gold should the seller read this! Fair is fair, and me getting it for free really isn't.
Until that happens though, I have the world's cheapest Mr. Gold (as long as you don't count the fact that I traveled from Norway to Chicago to get it). After all, unlike most other people who have one, I didn't even pay the $2.99 the collectible blind bags sold for in stores… How's that for a golden St. Patrick's Day tale!?
---
Do you have a similar story? What's the biggest bargain you've got? Share your thoughts and stories in the comments below!
Do you want to help BrickNerd continue publishing quality articles like this one? Become a patron to show your support, get early access, exclusive swag and more.