REVIEW: Marvel Select Super Skrull Figure (Diamond Select Toys 2023)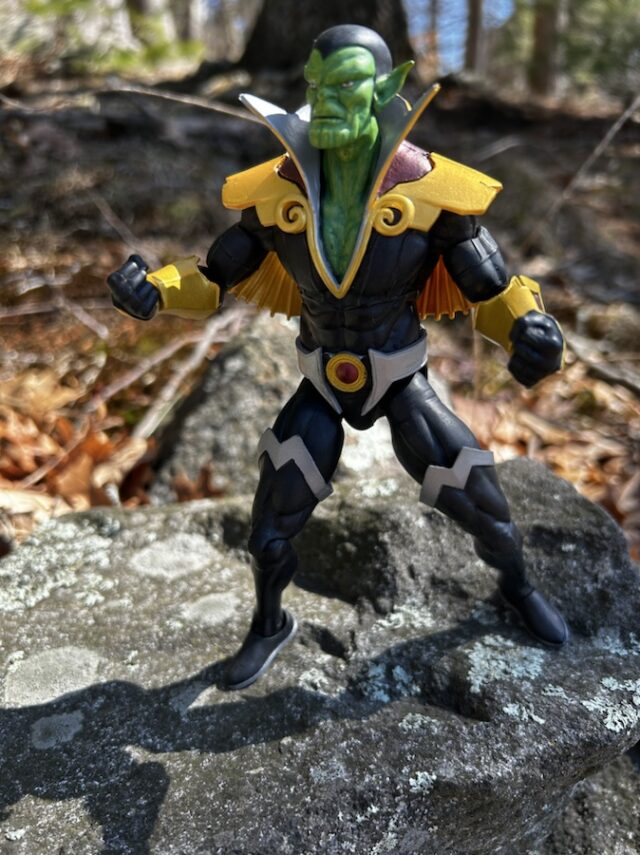 Secret Invasion is inching closer to premiering on Disney+ each day, and that means Skrull-related tie-in comics and toys are starting to re-emerge as well. A modern Secret Invasion comic book limited series just ended, Hasbro has several Skrull Marvel Legends figures lined up for the fall and Diamond Select Toys just started shipping the subject of today's review: the Marvel Select Super Skrull figure (with the powers of the Illuminati)! This is a rare character debuting in Marvel Select form prior to Marvel Legends. Is this unique Skrull dynamic enough to earn a spot in your collection? Here's my review…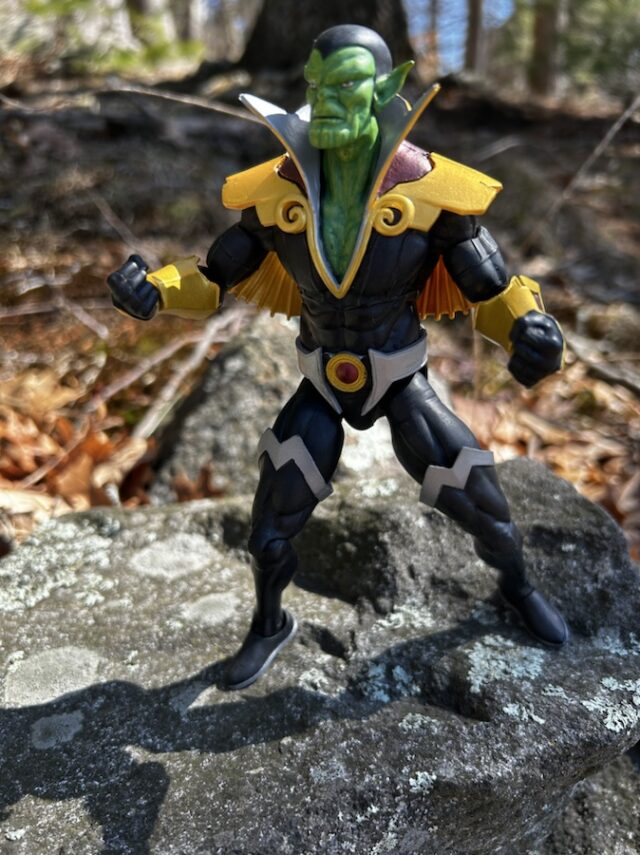 I was never a big fan of Secret Invasion in the comics (or Brian Michael Bendis in general), so the thought genuinely never crossed my mind that I'd need an action figure of the Illuminati Super Skrull from that era with the powers of Black Bolt, Namor, Mr. fantastic, Professor X and Doctor Strange.
So Diamond Select Toys seemed like they were going to have a little bit of an uphill battle to convince me I needed a toy of this villain with just a handful of appearances. But DST did such a compelling job, almost as soon as it was announced, I knew I was going to be picking this figure up and giving it a chance.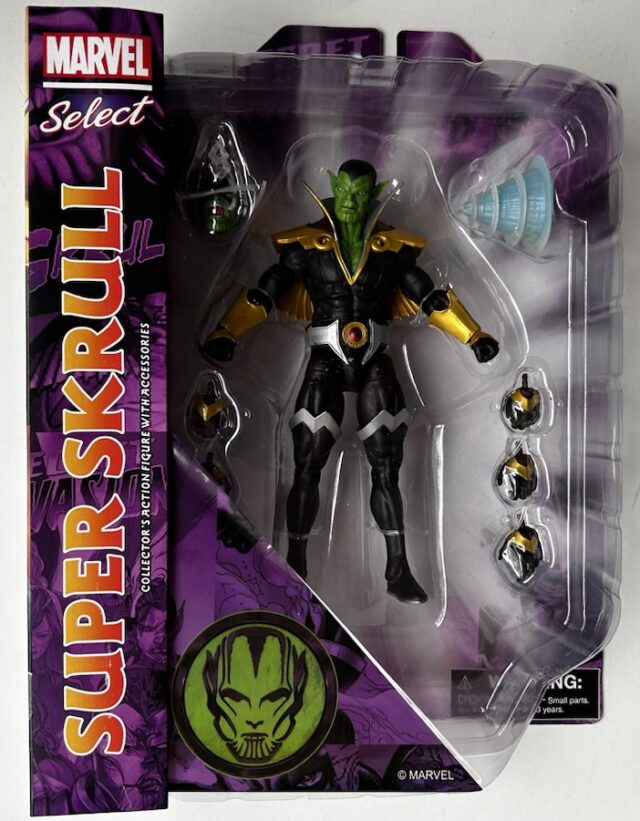 At this point in my life, I've owned quite a few toys of the iconic Fantastic Four Super Skrull with flaming, rocky, stretched and invisible parts. Another version of that design is starting to become a tough sell for me. But a different Super Skrull… a specific one a notable role in the comics… that's something I can sink my teeth into!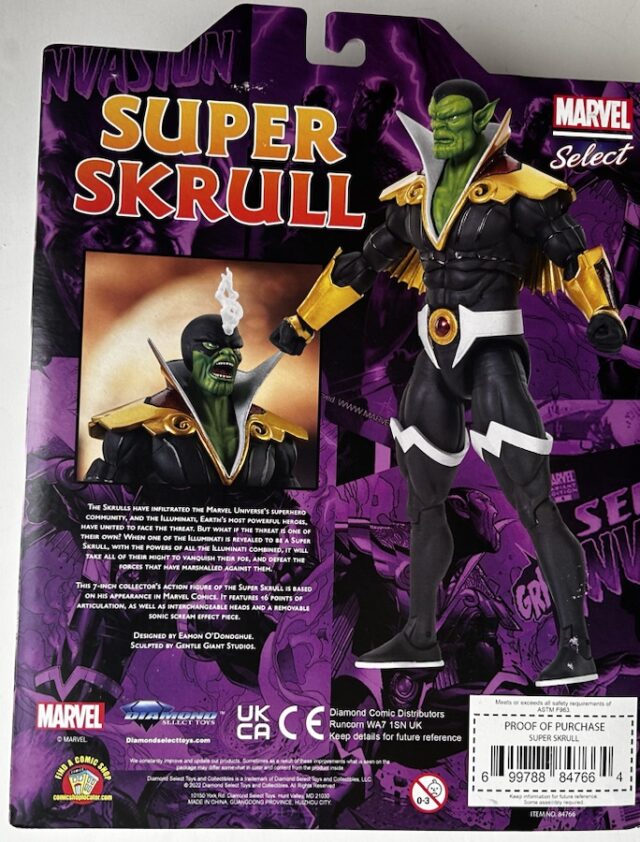 And so, once my brain recognized that this was the Black Bolt impersonator Super Skrull, DST had my attention. They kept it and earned my purchase with the masked Black Bolt Skrull head with open mouth and promised effects piece.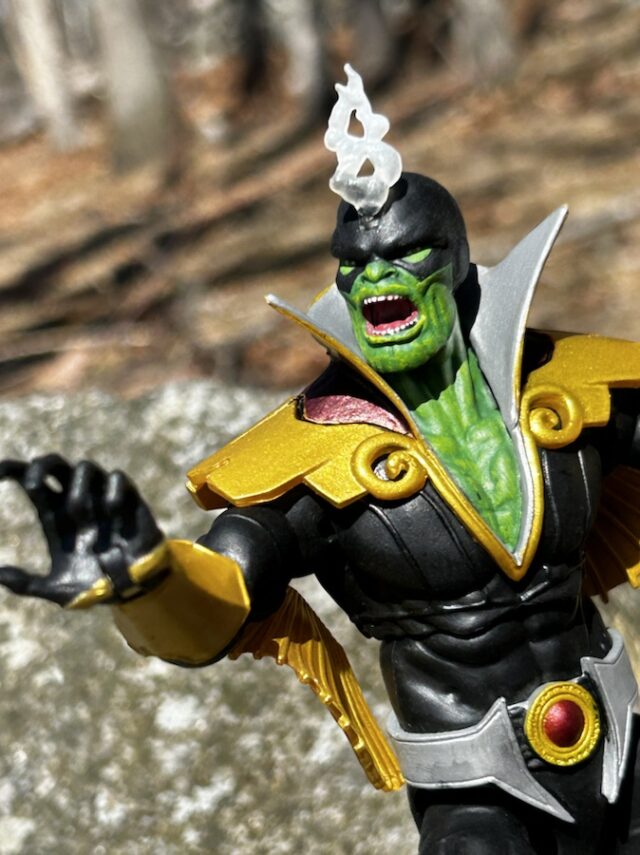 The black Bolt Skrull head has an awesome open-mouthed, teethy, screaming sculpt that's more action-packed than any Skrull toy released before.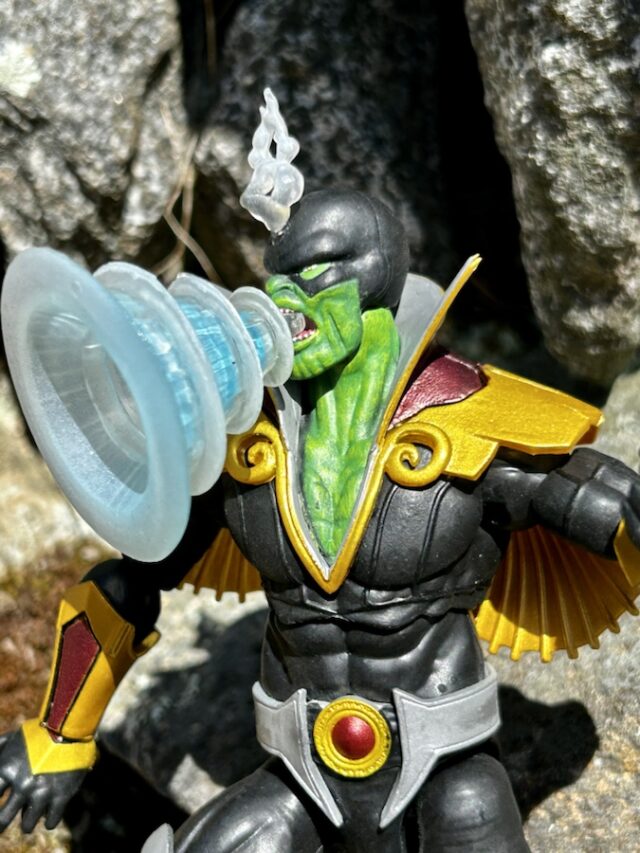 There's a blue Sonic Scream cyclone effect included that easily and securely affixes into the mouth and looks terrific. DST nailed this head/effect, and it's my favorite part of the figure.
Most of this particular Super Skrull's power set isn't visual (ie Namor's super-strength, Xavier's psychic powers, Doctor Strange's magical prowess), so nothing else about this figure screams "Super Skrull". That's the nature of this character's design, though, so I don't think it would be fair at all to complain about the lack of representation of those powers.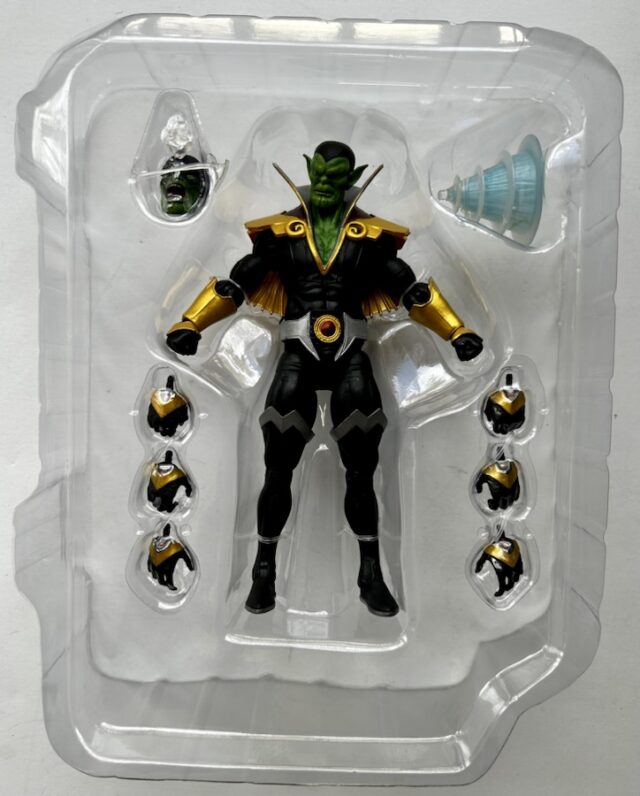 Marvel Select Super Skrull also comes with a total of eight interchangeable hands, including fists, grasping hands and more. I'm never going to use half these hands, so they're sort of a waste of plastic in my eyes. I'd happily have given up 4-6 of these hands for just one "stretchy hand" demonstrating Reed Richards' elastic powers, but it was not to be, alas.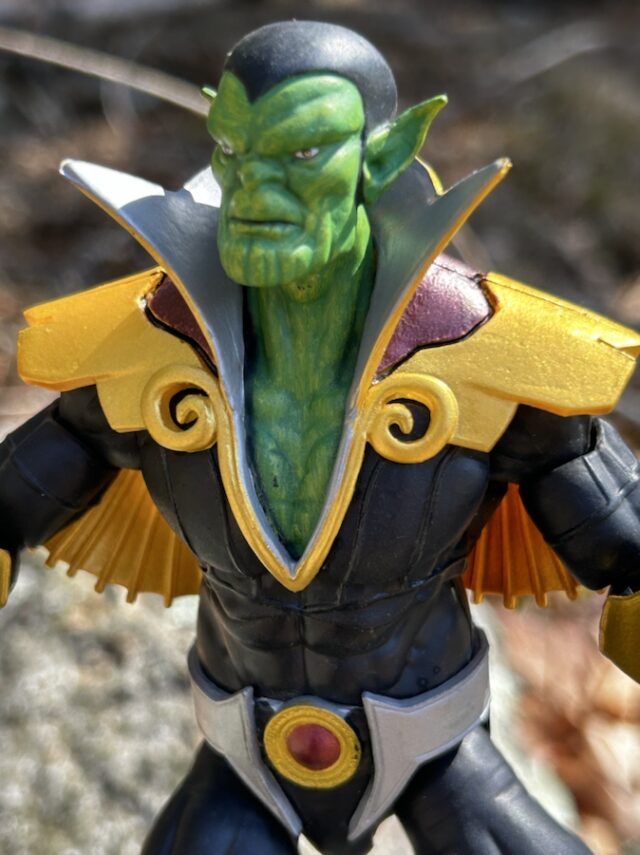 While it's not as exciting as the Skrull Black Bolt head, the unmasked head has a nice neutral expression that somehow feels quite threatening and grumpy. The paint wash on the head also makes the detailing look really nice. I don't know that I'll be displaying this portrait, but I'm glad the option is there.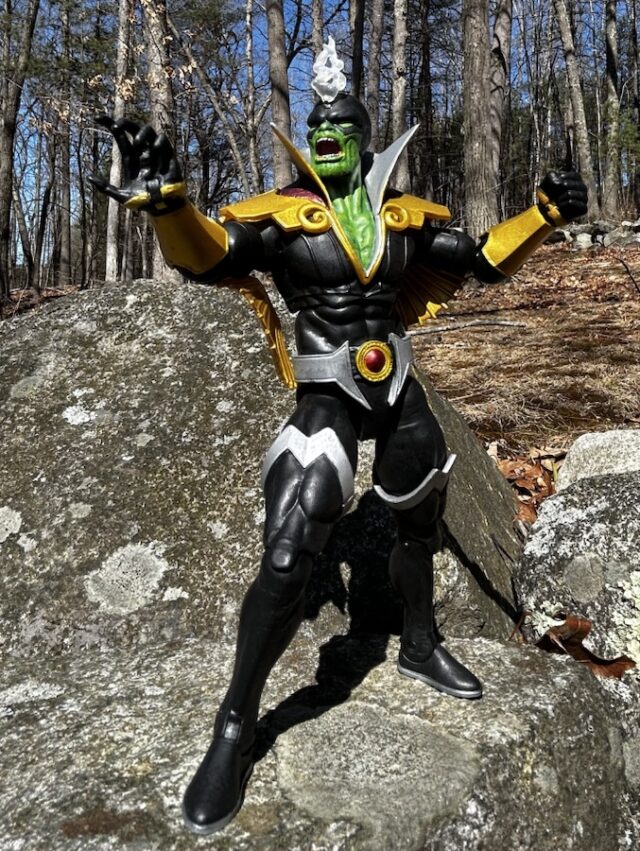 On the sculpting front, this 100% unique sculpt is very well-executed by Diamond Select as usual.  This character has a very interesting, primarily Black Bolt-like costume, which is captured wonderfully by the body mold here. However, Super Skrull Select feels much more powerful and muscular than Black Bolt, who's often sculpted quite slender. The Doctor Strange-like collar, gold wings and forearm armor also separate him visually from looking like "just Black Bolt with a Skrull head".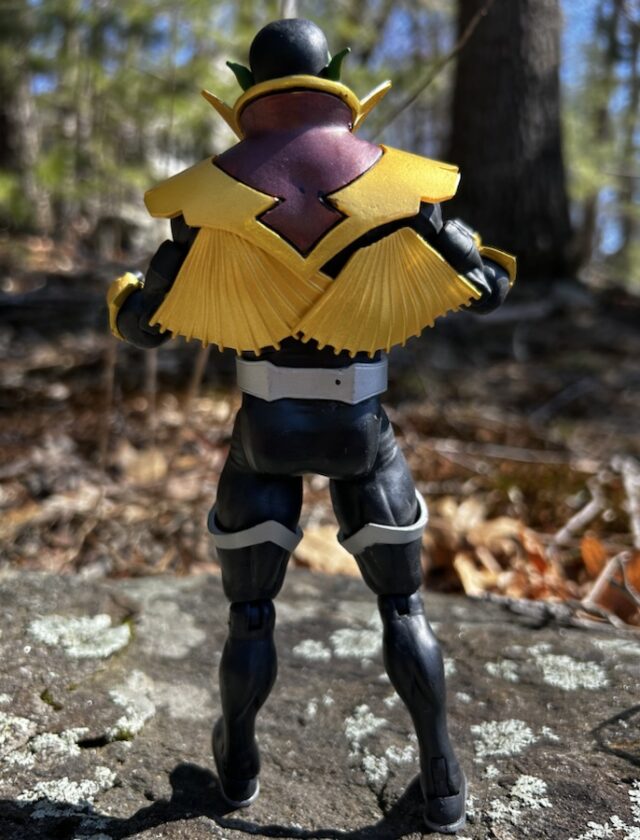 The black, silver and gold paint scheme looks quite sharp, and while there's a few surprising blemishes on the back of the figure, the paintwork on the front looks flawless to me.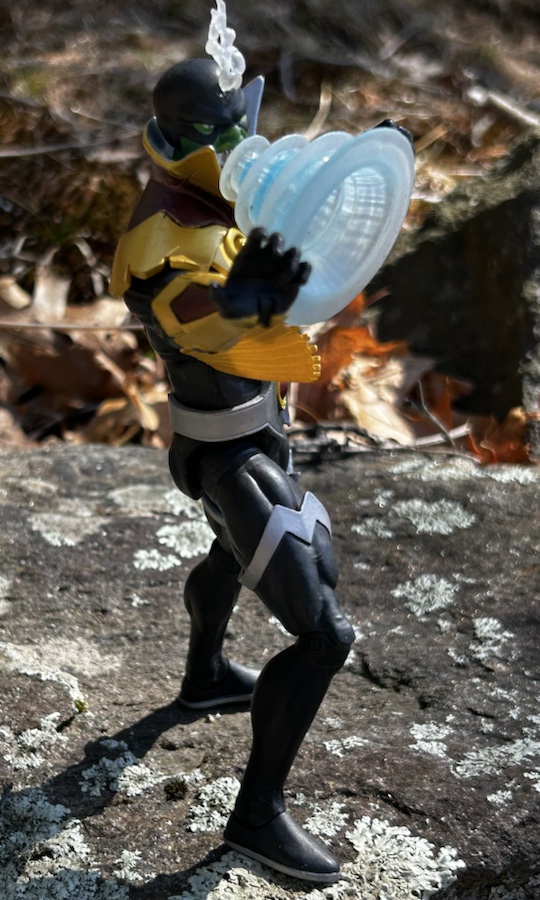 Articulation-wise, this Black Bolt Super Skrull figure isn't up to Marvel Legends standards, but feels adequate to me for a character that doesn't do a whole lot in the comics and is far from a martial artist. Hasbro would have implemented more articulation for sure, but I think what DST has included here is fine:
—Ball-Jointed Head, Upper Torso and Hips
—Ball-Hinge Shoulders, Knees and Elbows
—Swivel-Hinge Hands
—Hinged feet with rockers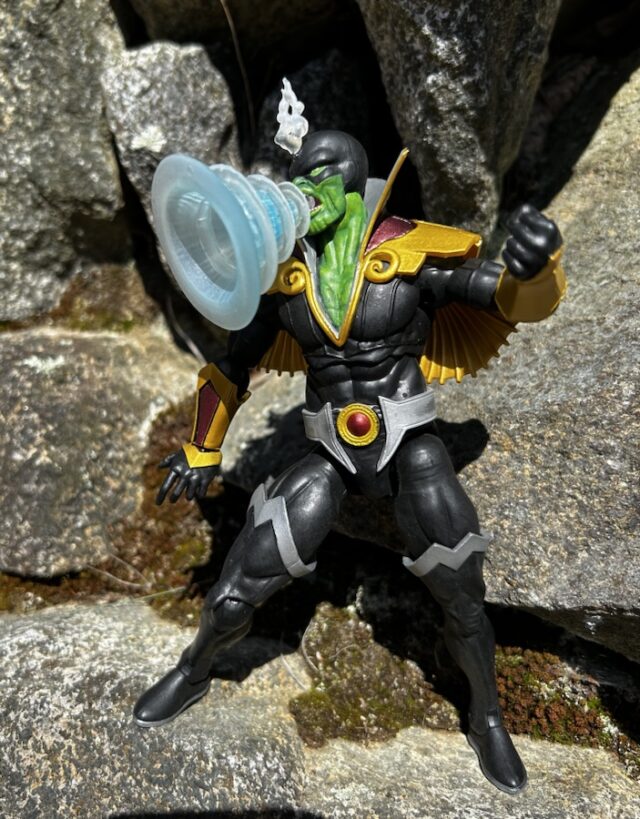 Overall: Illuminati Super Skrull isn't a character that I think many collectors were demanding or expecting a 7" Marvel Select action figure of, but I think there's no denying DST did a bang-up job on him. With two excellent head sculpts, a great effects piece attachment, lots of hand options (which some fans may or may not need), a sharp paint scheme and mostly adequate articulation for this character, I think Diamond Select Toys has produced a definitive edition of this character for those who want it.
GRADE: A-
The post REVIEW: Marvel Select Super Skrull Figure (Diamond Select Toys 2023) appeared first on Marvel Toy News.